Company Initiatives & Certificates

Since 2008, we have changed many of our landscaping procedures to determine where we can reduce the impact to the environment while maintaining quality and service to our customers. This has included changing the type or reducing the amount of herbicides we use, integrating organics into our fertilizers, promoting water conservation and weather based irrigation, converting our equipment to newer, lower emission models, replacing our managers' vehicles to lower emissions and improve MPG, promoting water saving technologies, and helping our customers evaluate their sites for ecological enhancement. Through all this effort, we were named one of Oregon's Best Green Companies by Oregon Business Magazine for the past decade.
EcoLogical Business Certification

Several local jurisdictions including the City of Portland have come together and developed a certification program for landscape companies. It recognizes companies that provide designs, installation and maintenance that reach the highest standards for minimizing its impact on the environment. We have completed the requirements and are one of the first companies to be certified.
Greening Our Facility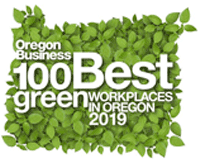 We have been making modifications to improve energy efficiency and environmental sensitivity. In 2007, we installed a bioswale to filter the runoff from our service yard. In 2008, we installed a rain garden to process our roof drains. We have converted all lighting to compact fluorescents and through active management have reduced our electrical use by 25%. We also installed solar panels on our roof in 2009 and are generating 95% of our own electricity.
Greening Our Fleet
We use big heavy-duty trucks which are a challenge to make more "green". We have however committed to transitioning our fleet to the new "Clean Diesel" now available and are using the highest concentration of BioDiesel available at our fleet fueling stations. As for our manager vehicles, we have all driving Hybrids. Our fleet is as low emission as possible. Quite frankly, we use more fuel with our equipment thus our focus has been key there. As new models of our hand-held equipment become available with lower emissions, we convert. Luckily, the new lower emission models are more fuel efficient, reducing our operating cost. This has had great ROI for us heaping meet our sustainable goal without significant cost increase. Our most recent initiative has been to convert our riding mower fleet to propane. Propane reduces the Greenhouse Gas (GHG) emissions by 48% compared to the previous gas-powered mowers. In addition, we are reducing our fuel costs as propane is cheaper than unleaded.
Recycling Everything

We have always recycled, but we have expanded our program and are now recycling everything we can. Historically we have always recycled all of our green waste and office paper but have expanded it to include all plastic, used oil, and metal. In 2009, we received a Master Recycler certification from METRO. We were the only landscape company to be recognized for excellence in waste prevention, recycling, and environmental purchasing by METRO's Washington County Cooperative Recycling Program. We are also committed to purchasing office paper and anything else we can that is made with some percentage of post-consumer waste.
Salmon Safe Certification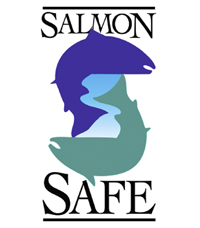 We assisted Epson Portland in the certification of their facility by Salmon Safe. This certification program requires a management program to reduce stormwater runoff and non-point source pollution, helping to protect Pacific Northwest salmon watersheds. We are currently working with Salmon Safe to develop a landscape management IPM program that can be used by our customers to help "fast track" the landscape portion of their facilities certification. We are also in the process of applying for Salmon Safe certification for our facility.